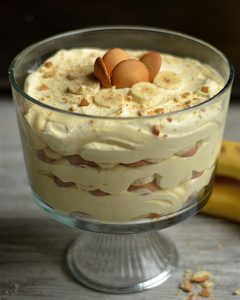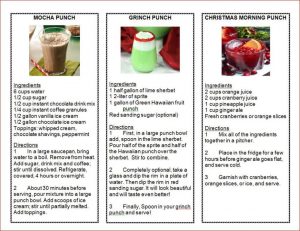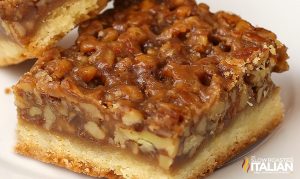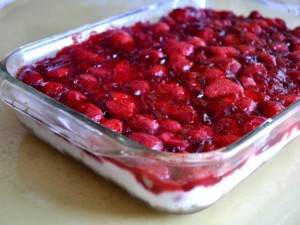 STRAWBERRY PRETZEL BARS
Ingredients:
• 1/2 cup sugar, divided
• 2/3 cup butter or margarine, melted
• 1-1/2 pkg. (8 oz. each) PHILADELPHIA Cream Cheese, softened
• 2 Tbsp. milk
• 1 cup thawed COOL WHIP Whipped Topping
• 2 cups boiling water
• 1 pkg. (6 oz.) JELL-O Strawberry Flavor Gelatin
• 1-1/2 cups cold water
• 4 cups fresh strawberries, sliced
Directions:
• Heat oven to 350°F.
• Mix pretzel crumbs, 1/4 cup sugar and butter; press onto bottom of 13×9-inch pan. Bake 10 min. Cool.
• Beat cream cheese, remaining sugar and milk with mixer until blended. Stir in COOL WHIP; spread over crust. Refrigerate until ready to use.
• Add boiling water to gelatin mix in large bowl; stir 2 min. until completely dissolved. Stir in cold water. Refrigerate 1-1/2 hours or until thickened. Stir in berries; spoon over cream cheese layer.
• Refrigerate 3 hours or until firm.
February 11, 2016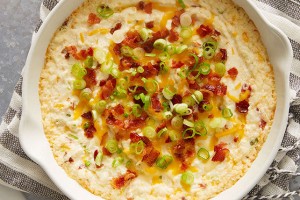 Hot Cheesy Bacon Dip
Prep Time 10min.
Total Time 25min.
Servings 12 servings, 2 Tbsp. each
3/4 cup KRAFT Shredded Three Cheese with a TOUCH OF PHILADELPHIA, divided
4 slices cooked OSCAR MAYER Bacon, crumbled, divided
2 green onions, finely chopped, divided
1 pkg. (8 oz.) PHILADELPHIA Cream Cheese, softened
1/3 cup KRAFT Real Mayo Mayonnaise
Heat oven to 350ºF.
Reserve 2 Tbsp. each shredded cheese, bacon and onions for garnish.
Mix remaining ingredients until blended; spread onto bottom of 9-inch pie plate sprayed with cooking spray.
Bake 15 min. or until hot and bubbly around edge.
Garnish with reserved ingredients.
Buffalo Chicken Dip
Prep Time 0hr. 10min.
Total Time 0hr. 30min.
Servings 32 servings, 2 Tbsp. each
2 cups shredded cooked chicken
1 pkg. (8 oz.) PHILADELPHIA Cream Cheese, softened
1/2 cup KRAFT Classic Ranch Dressing
1/2 cup KRAFT Natural Blue Cheese Crumbles
1 Tbsp. chopped green onions
Combine all ingredients except onions in medium bowl. Spoon into shallow baking dish sprayed with cooking spray.
Bake 20 min. or until heated through; stir.
Sprinkle with onions.
MEXICAN BEEF – STUFFED PEPPERS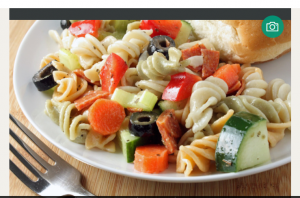 ITALIAN PASTA SALAD
INGREDIENTS
1 bag dried multi-colored spiral shaped pasta
1 cucumber, diced with peels on
1 package pepperoni, quartered
1 cup sliced celery
1 medium bell pepper, diced
½ cup sliced black olives
Assorted fresh vegetable, diced
1 bottle Italian salad dressing, chilled
DIRECTIONS
Cook pasta and rinse in cold water until cool
Toss with all veggies.
Chill until ready to serve.
Just before serving, pour Italian dressing over all and mix until everything is well coated. (Leftovers do not keep very well. Everything gets rather soggy so dress only what you need or dress each individual serving)
8/11/2015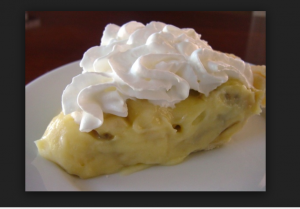 OLD FASION BANANA CREAM PIE
1 pie crust (9inch), baked
3 tablespoons cornstarch
1-2/3 cups water
14 ounces sweetened condensed milk
3 egg yolks, beaten
2 tablespoons butter
1 teaspoon vanilla extract
3 medium bananas
lemon juice
whipped cream
In heavy saucepan, dissolve cornstarch in water; stir in sweetened condensed milk and egg yolks. Cook and stir until thickened and bubbly.
Remove from heat; add butter and vanilla. Cool slightly. Slice 2 bananas; dip in lemon juice and drain. Arrange on bottom of prepared curst. Pour filling over bananas; cover. Chill 4 hours or until set.
Spread top with whipped cream. Slice remaining banana; dip in lemon juice, drain and garnish top of pie. Refrigerate leftovers.
June 3, 2015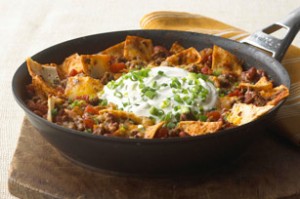 QUICK-FIX BEEF BURRITO SKILLET
(In 30 minutes or less)
1 lb. lean ground beef
1 pkg. (1-1/4 oz.) taco seasoning mix
1 can (15.5 oz.) no-salt-added red kidney beans, rinsed
1 cup thick & chunky salsa
1 cup water
4 flour tortillas (6 inch), cut into 1-1/2-inch pieces
1 cup Mexican style finely shredded four cheese blend
1/3 cup sour cream
1 large green onion, chopped
BROWN meat in large nonstick skillet on medium-high heat; drain.
ADD Taco Seasoning Mix, rinsed red kidney beans, thick & chunky salsa, and water; stir. Bring to boil; simmer on medium-low heat 5 min.
STIR in tortilla pieces; top with cheese. Remove from heat; cover. Let stand 5 min. or until cheese is melted. Top with sour cream and onions.
NOTE: Add more of your favorite Mexican-style toppings, such as shredded lettuce, chopped tomatoes and/or chopped avocados, before serving.
March 24, 2015
NO BAKE KEY LIME PIE IN A JAR
This recipe is super easy to whip up and makes around 4 servings. Here is what you need:
• 1 package of graham crackers
• 2 tbsp. butter
• 1 package of cream cheese (softened)
• 1/2 can condensed milk
• 1/2 cup plain or vanilla Greek yogurt
• key lime juice
• whipped topping
• limes to garnish
• 4 small glass jars
The first thing you want to do is crush up your graham crackers and mix them with 2 tbsp. of butter. There are tons of ways to do this but I like putting my graham crackers in a large zip lock bag and crushing with my hands, then pouring into a bowl to mix with the butter. Once you have done that set it aside. For the pie filling combine your cream cheese, condensed milk, yogurt and key lime juice in a stand mixer and mix on medium speed for about 5 minutes. If you don't have a stand mixer, whip vigorously with a whisk until you have a smooth, creamy texture. If you find your filling isn't as green as you like add in a drop or two of green gel coloring. Once mixed, pop it into the fridge for about 10 minutes while you get your jars ready.
Now pour about 1/3 cup of crushed graham crackers into the bottom of your jar and lightly pack them down. You don't want it to be too hard, so make sure it is just enough to stay in place.
After that take you're filling mixture out of the fridge and pour about 2/3 cup into your jar and sprinkle on some more graham crackers. Now top it with some whipped topping and a slice of lime and serve!
Don't want to eat it now? Screw on the top and keep in chilled in the fridge until you are ready!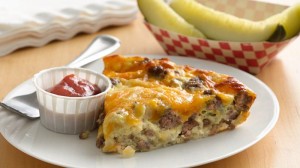 Impossibly Easy Cheeseburger Pie
1 lb. lean (at least 80%) ground beef
1 large onion, chopped (1 cup)
½ teaspoon salt
1 cup shredded Cheddar cheese (4 oz.)
½ cup Original Bisquick™ mix
1cup milk
2 eggs
Directions
1 Heat oven to 400°F. Spray 9-inch glass pie plate with cooking spray.
2 In 10-inch skillet, cook beef and onion over medium heat 8 to 10 minutes, stirring occasionally, until beef is brown; drain. Stir in salt. Spread in pie plate. Sprinkle with cheese.
3 In small bowl, stir remaining ingredients with fork or wire whisk until blended. Pour into pie plate.
4 Bake about 25 minutes or until knife inserted in center comes out clean.
15 min prep time
40 min total time
6 servings
Salsa Roll ups 4 oz. (1/2 of 8-oz. pkg.) PHILADELPHIA Neufchatel Cheese, softened 3 Tbsp. TACO BELL® Thick & Chunky Salsa 4 flour tortillas (6 inch) ½ cup KRAFT Mexican Style 2% Milk Finely Shredded Four Cheese ¼ tsp. chili powder MIX Neufchatel and salsa until blended; spread onto tortillas. TOP with remaining ingredients; roll up tightly. CUT each roll-up into 5 slices. TACO BELL® and Logo are trademarks owned and licensed by Taco Bell Corp. * Made with quality cheeses crafted in the USA. Kraft Kitchens Tips Pizza Roll-Ups Prepare as directed, substituting pizza sauce for the salsa, KRAFT Shredded Italian* Low-Moisture Mozzarella-Parmesan Cheese Blend for the Mexican style cheese, and dried oregano leaves for the chili powder. BLT Roll-Ups Omit salsa, shredded cheese and chili powder. Spread tortillas with Neufchatel as directed. Top with 1 cup shredded lettuce, 2 Tbsp. OSCAR MAYER Real Bacon Recipe Pieces and 1 chopped tomato. Roll up and slice as directed. Make Ahead Prepare roll-ups as directed, but do not cut into slices. Wrap individually in plastic wrap. Refrigerate up to 4 hours before slicing to serve.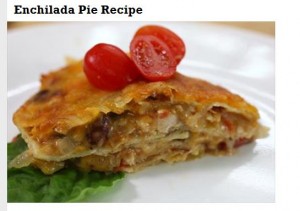 ENCHILADA PIE RECIPE INGREDIENTS 1 pound ground beef 1 onion, chopped 1 can (14 1⁄2-ounce) of cream of mushroom soup 2 small cans diced green chilies 1 can (14 1⁄2-ounce) whole tomatoes, crushed 1 can (14 1⁄2-ounce) tomato sauce 2 tablespoons vegetable oil 1 package (6 tortillas) corn tortillas 1 package (2 cups) shredded Colby Jack cheese INSTRUCTIONS 1. Preheat the oven to 350 degrees. 2. In a large saucepan, brown the meat and onions together. Cook until the onions become slightly translucent. Drain the excess liquid and set the meat off to the side. 3. Add the cream of mushroom soup, chilies, crushed tomatoes, and tomato sauce to the pan and cook over medium-high heat until the mixture begins to bubble. Add the browned meat and simmer on low heat for 7 minutes. 4. In a frying pan, heat a tablespoon of vegetable oil. Heat one or two corn tortillas at a time until they begin browning, lightly. Make sure not to burn the tortillas, flipping them frequently. 5. Grab a pie pan, and place 4 warmed tortillas in the base of the pan. Add 1⁄2 of the meat mixture on top of the tortillas. Sprinkle with 1⁄2 of the cheese (1 cup) over the meat mixture. Repeat the layers, starting with the final 2 tortillas, meat mixture, and remaining cheese on top. 6. Bake for 30 minutes until golden brown on top.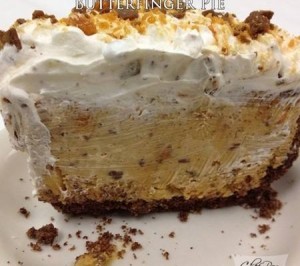 Butterfinger Pie INGREDIENTS 1 1/2 cups chocolate graham crackers, crushed (1 packet, 9-10 crackers) • 6 tablespoons butter or margarine, melted • 1 Butterfinger candy bar, crushed • 8 ounces PHILADELPHIA Cream Cheese • 1 teaspoon vanilla extract • 1/4 cup dark brown sugar • 1/4 cup granulated white sugar • 1/2 cup creamy peanut butter • 16 ounces Cool Whip, unthawed • 8 oz ounces Cool Whip Extra • 8 mini pie pans or ramekins*** • 2 Butterfinger candy bar, crushed (divided into 2 bowls) • 1 ounce mini semi-sweet chocolate chips or semi-sweet chocolate shavings • 1 ounce crushed peanuts DIRECTIONS FOR PIE CRUSTS: Mix together first three ingredients (chocolate graham crackers, butter and one Butterfinger). Divide mixture evenly among eight mini pie pans , and press firmly into bottom and sides. Put pie shells into freezer to chill until ready to fill. FOR PIE: Mix together next 7 ingredients (PHILADELPHIA Cream Cheese, vanilla extract, dark brown sugar, granulated white sugar, creamy peanut butter, and Cool Whip and 1 cup Butterfinger candy bar, crushed). Beat on med-low for 30 seconds, then scrap down sides of bowl. Beat on high for 1 minute. Pie filling is now ready. TO FINISH: Evenly divide pie filling into eight mini pie pans . Garnish each pie evenly with the 8 oz ounces Cool Whip extra, crushed Butterfinger, mini semi-sweet chocolate chips or semi-sweet chocolate shaving, and crushed peanuts (all optional). Cover each pie and freeze for at least two hours before serving. ADDITION: This can all be made into one large pie that serves 8 or into 8 mini pie pans for parties and other get togethers. 6/24/2014
RECIPE 1 pkg. Elbow Macaroni 1 – 12 to 14 oz bottle Ranch Dressing ¼ cup dill relish (more or less according to your preference) 1 pkg. Small "Ready to Eat" shrimp (found in frozen foods section) Directions: Bring 6 quarts of water, lightly salted, to a boil and add elbow macaroni. Boil until tender. In another pot, while macaroni is boiling, bring 4 – 6 quarts of water to a boil. Drop in the frozen shrimp and stir for 3 – 4 minutes. Drain shrimp and set aside. Once macaroni is tender, drain and add ranch dressing, dill relish, and shrimp. Stir until well mixed. Can be served hot or cold. 5/14/14
Stove Top Tamale Pie Ingredients: 1 lb ground beef 1 (8 ounce) can tomato sauce 1 (14 ounce) can ranch style beans 1/2 cup water 1 (1 1/4 ounce) package taco seasoning 1 (8 ounce) package corn muffin mix 1 cup shredded cheddar cheese 1/4 cup sliced green onion Directions: 1. In a large skillet, brown ground beef over medium-high heat; drain. 2. Stir in tomato sauce, beans, water and taco seasoning mix. Bring to a boil; reduce heat, cover and simmer 5 minutes. 3. Prepare corn muffin mix according to package directions. Drop small spoonfuls of muffin batter over meat mixture in a skillet. 4. Cover and cook over medium-low heat 15-17 minutes or until corn bread is done. 5. Top with cheese and green onion. Cover and cook over low heat until cheese melts.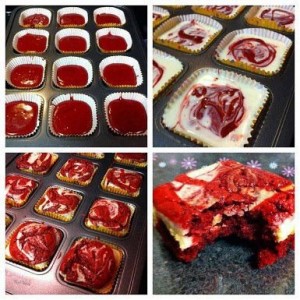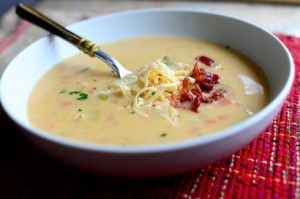 6 slices Thin Bacon, Cut Into 1-inch Pieces
1 whole Medium Onion, Diced
3 whole Carrots, Scrubbed Clean And Diced
3 stalks Celery, Diced
6 whole Small Russet Potatoes, Peeled And Diced
8 cups Low Sodium Chicken Or Vegetable Broth
3 Tablespoons All-purpose Flour
1 cup Milk
½ cups Heavy Cream
½ teaspoons Salt, More To Taste
Black Pepper To Taste
½ teaspoons Cajun Spice Mix
1 teaspoon Minced Fresh Parsley
1 cup Grated Cheese Of Your Choice

Preparation Instructions Add bacon pieces to a soup pot over medium heat and cook bacon until crisp and fat is rendered. Remove the bacon from the pot and set it aside. Pour off most of the grease, but do not clean the pot. Return the hot to medium-high heat and add the onions, carrots, and celery. Stir and cook for 2 minutes or so, then add the diced potatoes. Cook for 5 minutes, seasoning with salt, pepper, and Cajun spice. Pour in the broth and bring it to a gentle boil. Cook for 10 minutes, or until the potatoes are starting to get tender. Whisk together the flour and the milk, then pour into the soup and allow the soup to cook for another 5 minutes. Remove half to 2/3 the soup and blend in a blender/food process until completely smooth. Pour it back into the soup pot and stir to combine. Let it heat back up as you taste for seasonings, adding more of what it needs. Stir in cream, then stir in parsley, reserving a little for garnish.  Serve in bowls garnished with parsley, grated cheese and crisp bacon pieces.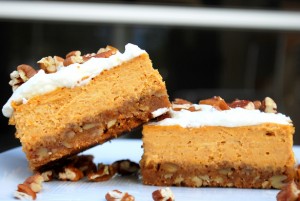 Crust: 1 1/2 cups cinnamon graham crackers 3/4 cups pecans 1/4 cup + 2 tablespoons sugar 10 tablespoons of unsalted butter, melted   Topping: Whipped cream Toasted chopped pecans   Filling: Three 8 oz containers of cream cheese, room temperature 3/4 cup sugar 1/4 cup light brown sugar One 15 oz can of pumpkin puree 3/4 tablespoon pumpkin pie spice 1/4 teaspoon salt 1 teaspoon vanilla extract 2 large eggs     Directions: Preheat oven to 325 degrees F. Lightly grease a 9×13 glass baking dish, set aside. In a food processor, process the pecans and graham crackers until a fine crumb consistency. Place the mixture in a medium sized bowl. Add the sugar and pour the melted butter over it. Mix until all the crumbs are moistened. Press the mixture down into the glass baking dish and bake for 10 minutes and let cool. Meanwhile, beat together the cream cheese and sugars until combined. Beat in the pumpkin, pumpkin spice, salt, and vanilla until combined. Beat in the eggs one at a time until smooth. Pour the batter over the cooled crust and bake for 50-55 minutes. Let cool room temperature for 30 minutes then place in the refrigerator for at least three hours. Cut into squares, top with whipped cream, and garnish with toasted pecans. Enjoy! VELVEETA Chicken Enchilada Casserole What You Need ¾ cup TACO BELL® Thick & Chunky Salsa, divided 2 cups chopped cooked chicken 1 can (10-3/4 oz.) condensed cream of chicken soup ½ lb. (8 oz.) Mexican VELVEETA®, cut into 1/2-inch cubes 6 corn tortillas (6 inch), cut in half Make It HEAT oven to 350°F. Reserve 1/4 cup salsa for later use. Mix chicken, soup and VELVEETA until well blended; spread 1 cup onto bottom of 8-inch square baking dish. TOP with layers of 6 tortilla halves and 1/2 each of the remaining remaining salsa and chicken mixture; repeat layers. BAKE 30 to 35 min. or until heated through. Serve topped with reserved salsa. 10/14/2013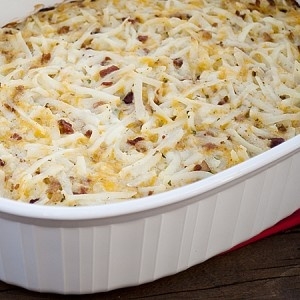 EASY FALL POTATO BAKE 2 (16 OZ) CONTAINERS SOUR CREAM 2 CUPS CHEDDAR CHEESE, SHREDDED 2 (3 OZ) BAGS REAL BACON BITS 2 PACKAGES RANCH DIP MIX 1 LARGE BAG FROZEN HASH BROWN POTATOES PREHEAT OVEN TO 400. COMBINE FIRST FOUR INGREDIENTS, MIX IN HASH BROWNS. SPREAD INTO A 9 X 13 PAN. BAKE FOR 50-60 MIN. DEPENDING ON OVEN. 9/10/13